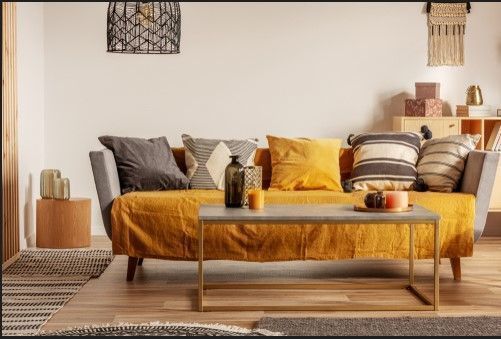 Your living room design is incomplete with a sofa. It is the primary furniture piece in your living room. The design and type of your sofa will hugely influence the appearance and functionality of the space. You can easily find many good quality sofas in the market that are not only appealing but comfortable as well. 
But wait, what happens when it starts appearing a little old? Considering replacing the sofa might not be the best solution as the item still might be in a very good condition. Moreover, good quality comfortable sofas are not cheap. If you keep replacing sofas after every few years, it will burn a hole in your pocket. A better solution would be to get new sofa covers and replace the old ones. Although there are plenty of options available in the market, consider DIY interior design options. This will allow you to give the sofa any design you want and give the interiors a personal touch. You can experiment with different colours and patterns for creating a unique living room design. Further, choosing DIY interior designs will be cheaper than buying new sofa covers. If you are not sure about the type of DIY sofa covers you should make for your living room design, here are a few suggestions you can take inspiration from:
01 of 06 Look for slipcovers
If you feel that your furniture pieces are looking old and a little worn out, opt for slipcovers. They are perfect for giving any old furniture a brand new look. Slipcovers are basically regular covers that can be slipped off when washing or for seasonal changes. You can easily make slipcovers at home. Just make sure that you take the right measurements and the covers do not appear loose. While making these covers, you will have the complete freedom of choosing the type of cloth, pattern, colour, etc. 
02 of 06 Consider tufting 
You can give your sofa a fresh new look by tufting. This technique can modify any furniture and add visual interest to its look. Tufting is the process of stitching the fabric tightly at regular intervals so that indents are formed in those areas and the rest of the areas appear to be protruding outwards. As a result, many geometric patterns form on the surface and the sofa design appears more appealing. In most cases, large buttons are stitched to the indented areas. It helps to give the furniture piece a more luxurious feel.
03 of 06 Choose drop cloth slipcovers 
Drop cloth slipcovers are similar to regular slipcovers. You can easily put them on and pull them off whenever required. Hence, people find it very easy to use. Also, making these slipcovers is easier as they do not require stitching like regular slipcovers. This is because they do not stay fitted to the cushions completely. Instead, they hang loosely from all sides and give the space a more casual look. This unique technique also makes the space stylish. Make sure you get a good quality fabric for this purpose so that it looks luxurious as well. Take the colours and patterns on the fabric into account while buying. 
04 of 06 Make covers for your L-shaped sofa 
Many modern homes feature large L-shaped sofa designs. This is because they not only appear stylish but offer plenty of seating space as well. However, they are more expensive than most other types available in the market. You cannot just replace one if it starts appearing a little old. Instead, you should change its cover. This will allow you to save a lot of money. But, be careful as making covers for L-shaped sofas is not easy. You will require good sewing skills. If you cannot sew the covers properly, the sofa might appear unappealing. 
05 of 06 Add fun with printed armchair slipcovers 
Not everyone likes introducing fun elements to the living room design. However, if you want to give the space a vibrant and fun appearance, you can bring in a printed armchair slipcover. There are many different options you can find in the market. Choose one that complements the rest of the living room decor. Moreover, you do not have to worry about complex sewing tasks for making these armchair slipcovers. Just consider using drop cloths for designing the cover as they are a cheaper alternative. 
06 of 06 Get the current piece reupholstered 
You do not have to buy a new furniture piece if you want to give your living room decor a luxe feel. Reupholstering it can do the trick. It is one of the best ways to get your dream sofa without spending a lot of money. Choosing glamorous options like velvet is a great idea for this purpose.